Reading Time:
3
minutes
In today's toughest times of COVID-19, people are quite worried about their nutritional status. COVID-19 pandemic has been made mandatory to maintain good health to fight against the virus. Although several factors affect an individual's health, such as age, health status, lifestyle, medications, nowadays, the major cause of high death rate and severe illness is the coronavirus. Therefore, it has become necessary to boost the immune systems to defeat such a virus; after all, it is considered a sustainable way to survive in the current situation. To improve the immune system, the right nutrition and dietary nutrients intake is undoubtedly essential. A good diet and food practices strengthen your immune systems and ensure the body receives all the vital nutrients required to stay fit and fight against the virus. There is no second thought concluding how important a healthy diet is during the COVID-19 pandemic.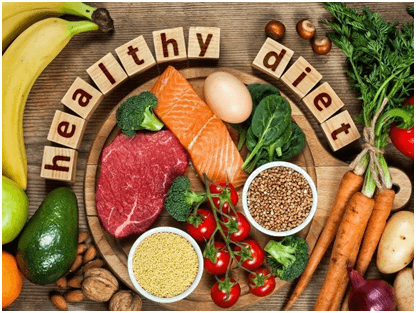 But how would you maintain healthy eating in this pandemic? Do you know which food can immune you or which one would appear as vulnerable? There is a possibility that you may be in a perplexed situation about what to do or not. Right? If yes, you're at the right place. So, here we have discovered some ideal tips to help you and your family stay fit and healthy in this pandemic time. 
Let's start-
Eat A Variety of Foods
Mix it up! Instead of relying on a single food, it will be wise to eat a variety of foods of all groups so that you can enjoy intake of proper nutrients. Every single food is known for its own dietary elements, and it is important to be aware of what you are consuming. For such information, it is good to get in touch with an experienced nutritionist who can suggest you a healthy diet depending on your health status, eating habits, food availability, and other essential factors. 
Stop Excess Fats, Sugar & Salt
Anything in excess always results in worse. In this high time of COVID-19 stress, people are now taking care of their health and switching from unhealthy food to healthy one. But at the same time, people are unaware of how high fat, sugar, and salt can lead them to an unbalanced diet that can further affect their health. When you get your diet planned by an experienced nutritionist, they will ensure that you consume the right nutrients, following the holistic health approach.
Fruits and Veggies are a Good Choice!
In this COVID time, when everyone is worried about their health, it would be simple to show your reliability towards eating a healthy diet that includes many veggies and fruits. Fruits and vegetables are excellent sources of high vitamins, minerals, and fibres that are the basic body requirements to stay healthy and active. Even when you choose minimally processed frozen or canned fruits and veggies, dieticians always suggest paying attention to the ingredients used in the processing of such products. This way, you can take a step towards your health and stay fit during COVID-19.
Go for the Nuts & Pulses!
Pulses are the optimum source of protein. Above all, they are considered the inexpensive protein-rich foods that everyone can afford. In addition, lupins, peas, beans, and other pulses are loaded with ultimate vitamins and minerals that play a great role in building your health. Many experienced nutrition consultants or health researchers nod to the research, showing pulses can defeat several kinds of diseases such as diabetes and coronary conditions.
Physically Active
Yes! Exercises are a must to stay active always. It is not only good for physical health but also for mental health. Today, obesity and overweight have emerged as a big health issue. So, along with a good diet plan for weight loss, it is important to do at least 30 minutes of daily exercise. 
Conclusion
COVID-19 has impacted many lives, but worrying about its impact is not the solution. It is good to follow the COVID guidelines, including social distancing, wearing masks, and using hand sanitizer. Besides all these, it is highly important to follow a major health routine at your level. After all, a healthy body is a key to well-being.